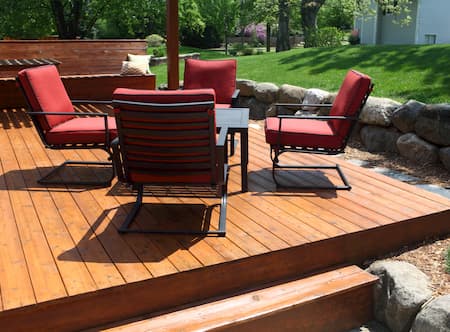 An outdoor deck can be a wonderful investment for your Princeton home, providing you and your family with a great space to entertain guests, enjoy the outdoors, or simply relax for a bit at the end of a long day. In order to keep your home's deck looking its best, regular deck cleaning is important. Here at Prestiege Property Services LLC, we're the premier source for pressure washing in Princeton and we can help you get the job done right.
Are you looking for a professional Princeton pressure washing contractor who can provide you with the comprehensive deck cleaning services you need for your home? If so, give our team of skilled professionals a call today and let us show you the kind of quality results that have helped make us the most trusted name in deck cleaning and fence cleaning the area has to offer.
Here at Prestiege Property Services LLC, our team of skilled pressure washing experts want to do everything in our power to help you keep your home's deck area in the best shape possible - with our high-quality deck cleaning services, we're able to do just that. Regular deck cleaning can not only help to keep your deck looking good, but will also help to remove any potentially harmful contaminants that could cause damage to your deck's surface over time.
With regular deck cleaning, you can effectively remove these contaminants and extend the life of your deck. If you have any questions about our full line of deck cleaning services, or if you would like to get an estimate for your next project, give us a call today. Our team of experts are always standing by and would be happy to assist you in any way we can.
Our Patio Cleaning Specialists Will Revitalize Your Outdoor Entertaining Areas
Over time, constant exposure to the elements can leave your outdoor patio looking a bit worn out and dingy. In order to keep your outdoor entertaining space looking its best, it's always good to have the name of a skilled team of patio cleaning specialists who can help to remove all of that built-up dirt and grime. If you're looking to revitalize your home's outdoor patio area, give our team of skilled pros a call today and let us show you what we can do.